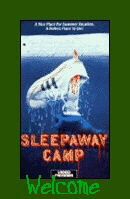 Sleepaway Camp
I know a lot of people disagree, but this is a really great movie, I love it! Like most of these movies I saw it at a very young age. There are really great gruesome death scenes (my fave is the boiling water part) and a very twisted ending. This movie spawned sequels that were pretty silly, but pretty fun to watch. The sequels starred Pamela Springsteen (Bruce's sister) as Angela and were more intentionally funny. Also the second one (the better of the sequels) had Renee Estevez (yep, from the whole Estevez/Sheen clan) whose pretty cute and also in some other low B horror flicks like Intruder. But, again, the original is a bit more twisted and gruesome.
Facts:
1983 Directed and Written by Robert Hiltzik
Cast:
Felissa Rose as Angela <Felissa has also appeared in Birds of a Feather>
Jonathan Tiersten as Ricky <Jonathan has also appeared in Seasonal Differences>
Karen Fields as Judy
Christopher Collet as Paul <Christopher has also appeared in The Langoliers, Hero in the Family, and The Manhattan Project>
Mike Kellin as Mel <Mike has also appeared in Terror at Alcatraz, Paternity, The Boston Strangler, Just Before Dawn, Midnight Express, and Girlfriends>
Katherine Kamhi as Meg <Katherine has also appeared in All My Children, Silent Madness, and NYPD Blue>
Paul DeAngelo as Ronnie <Paul has also appeared in Silent Madness>
Loris Sallahian as Billy <Loris has also appeared in Fame>
Desiree Gould as Aunt Martha <Desiree has also appeared in the TV Pilot "You Can't Go Home>
John Dunn as Kenny <John has also appeared in All My Children>
Robert Earl Jones as Ben <Robert has also appeared in Rain Without Thunder, Maniac Cop 2, Witness, Trading Places, and The Sting>
Owen Hughes as Artie
Most facts gotten at Internet Movie Data Base
JOIN IT!!!:

Links:
Merchandise:
You can buy all three at: VideoBuffs however they are very hard to find and very expensive, what I did was buy them off the shelf off of a friend of mine that owns a video store, you should try that too, because a lot of these videos at certain stores don't have high rental rates, and the owners sometimes will just sell the videos to you.
Fan Sites:
Great new Site:
http://www.geocities.com/greengirl20012000/mypage.html
Awesome site dedicated to Jonathan Tiersten: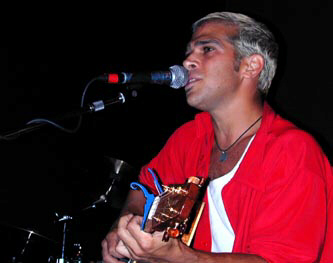 Cool new site: http://www.angelfire.com/movies/sleepawaycampcool/
Great new site!!:
Huge site with lots of info on all three:

Also great, & includes a Judy hate club!:

Please click on the "Welcome" sign below to view and use the full set I created in tribute to Sleepaway Camp: