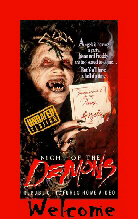 Night of the Demons
I love the effects and the characters in this movie! This is one of those movies that has a lot of "Best Scenes", if you know what I mean! This became a major summer movie for me; my friend Mary and I tried to show this movie to everyone we knew one summer, even at parties!! Try to get the unedited version. There were two sequels, and they are fun to watch, but in my opinion, are not nearly as good as the first!
Facts:
1987 Also known as Halloween Party
Directed by Kevin S. Tenney
Written by Joe Augustyn
Cast:
Alvin Alexis as Rodger <Alvin has also appeared in The Preppie Murder, Robots, and The Wiz>
Allison Barron as Helen <Allison has also appeared in The Other Woman, The Haunted, Beverly Hill's Body Snatchers, Blood Nasty, and Nightmare on Elm Street 2>
Lance Fenton as Jay <Lance has also appeared in Heathers>
William Galo as Sal <William has also appeared in Fool's Gold and Pretty Woman>
Hal Havins as Stooge <Hal has also appeared in Sorority Babes in the Slimeball Bowl-a-Rama and Welcome Home, Roxy Carmichael>
Cathy Podewell as Judy <Cathy has also appeared in Earth Angel and Beverly Hill's Brats>
Linnea Quigley as Suzanne <Linnea has also appeared in Return of the Living Dead, Pumpkinhead 2, Sorority Babes in the Slimeball Bowl-a-Rama, Linnea Quigley's Horror Workout, Creepozoids, Burial of the Rats, Jack-O, Innocent Blood, Freddy's Dead, and Silent Night Deadly Night>
Philip Tanzini as Max <Philip has also appeared in Samantha and Marked For Death>
Jill Terashita as Frannie <Jill has also appeared in Sleepaway Camp 3 and Terminal Entry>
Harold Ayer as Old Man <Harold has also appeared in Killer Instinct and Tarzan, The Ape Man>
Marie Denn as Old Man's Wife <Marie has also appeared in Stewardess School, Terror Among Us, and Wild Guitar>
Karen Ericson as Judy's Mother <Karen has also appeared in Final Mission and Hustler Squad>
Amelia/Mimi Kinkade as Angela <Amelia has also appeared in Night of the Demons 2, Night of the Demons 3, and Girls Just Wanna Have Fun>
Don Jeffcoat as Billy <Don has also appeared in Wish Upon a Star, Broken Angel, and Ghoulies 2>
James W. Quinn as Clerk/Demon Voices <James has also appeared in Pinocchio's Revenge, Witchtrap, and Witchboard>
Most facts gotten at Internet Movie Data Base
Links:
Great fan site! Huge and informative!!
http://www.geocities.com/ultimatenotdpage/

Merchandise:
You can buy Night of the Demons new for $8.99 at Reel.com
You can buy Night of the Demons 2 new for $8.99 at Reel.com
You can buy Night of the Demons 3 new for $81.56 at Amazon.com
You can buy a poster for Night of the Demons at Rick's Movie Graphics
Please click on the "Welcome" sign below to view and use the set I created for Night of the Demons: