This is my favorite of the Texas Chainsaw series. Although I do love the first two, I just love all the characters (especially Benny, Tex, and Tinker!) And I love the non-stop action. I saw this in the theatre, and I know I saw a lot more in the theatre that I haven't seen on video, I have heard there is a lot that is cut out and I will have to find a copy with the dited scenes in it!I am not really going to comment on the fourth installment of the series, but the first is definetly a classic, and the second is a lot of fun to watch.
Facts:
1989 Directed by Jeff Burr and Claudio Fragasso
Written by David Schow
Cast: *I'm real sketchy on a few of the character's names so I made some guesses placing faces with pictures; I've watched it about a thousand times, but no luck, if anyone can clear any of these up, let me know, thanks!

Jennifer Banko as the Little Girl <Jennifer has also appeared in Barb Wire and Friday the 13th part 7>

William Butler as Ryan <William has also appeared in Night of the Living Dead '90, Friday the 13th Part 7, Spellcaster, Ghoulies 2, and Terror Night>

Miriam Byrd-Nethery as Mama <Miriam has also appeared in Stepfather 2>
? David Cloud as Scott <David has also appeared in Civil War Diary>

Beth DePatie as Gina <Beth has also appeared in Tank Girl and Nightmare on Elm St. 5>
Tom Everett as Alfredo <tom has also appeared in Air Force One, Die Hard 2, Friday the 13th Part5, and Beverly Hill's Cop>

Ken Foree as Benny <Ken has also appeared in Dawn of the Dead, Knightriders, The Dentist, Sleepstalker, Death Spa, Phantom of the Mall, From Beyond, and Terror Squad>

Kate Hodge as Michelle <Kate has also appeared in The Hidden 2>
Toni Hudson as Sara <Toni has also appeared in The Uninvited>

R.A. Mihailoff as Leatherface <R.A. has also appeared in Pumpkinhead 2 and Trancers 3>

Viggo Mortenson as Tex <Viggo has also appeared in A Perfect Murder, Young Guns 2, Psycho, G.I. Jane, The Prophecy, and The Reflecting Skin>

Joe Unger as Tinker <Joe has also appeared in Pumpkinhead 2, The Bodyguard, Total Recall, Roadhouse, Barfly, Deliberate Stranger, Mask, A Nightmare on Elm St., and Escape From New York>
? Dwayne Whitaker as Kim
Most facts gotten at Internet Movie Data Base
Links:
Merchandise:
You can buy it new on VHS at a discount price:
It is not yet available on DVD but the others are:
You can buy posters for it at Rick's Movie Graphics
Fan Site:
My favorite Texas Chainsaw site: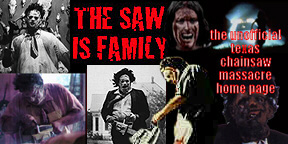 Please click on the "Welcome" sign below to view and use the Leatherface: Texas Chainsaw Massacre set I created: