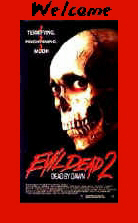 Evil Dead 2
A wonderfully fun sequel, this one takes a more comical view. Basically, it happens all over again for our poor hero Ash. This one is another fan favorite and sometimes is held in higher regard than the original. This was followed by Army of Darkness, which I also love, but is the silliest of all three. Usually fans of Evil Dead, are fans of all three movies.
Facts:
1987 Directed by Sam Raimi
Written by Sam Raimi & Scott Spiegel
Cast:
Bruce Campbell as Ash <Bruce has also appeared in Evil Dead, Army of Darkness, Waxwork 2, Sundown, The Adventures of Brisco County Jr., Escape From L.A., From Dusk Til Dawn 2, Maniac Cop 1 & 2, Darkman, Lunatics: A Love Story, and Ellen>
Sarah Berry as Annie
Dan Hicks as Jake <Dan has also appeared in Wishmaster, Intruder, Maniac Cop, and Darkman>
Kassie De Paiva as Bobby Joe <Kassie has also appeared in One Life to Live, Guiding Light, Melrose Place, and Baywatch>
Ted Raimi as Posessed Henrietta <Ted has also appeared in Lunatics: A Love Story, Wishmaster, Skinner, Army of Darkness, Candyman, Maniac Cop 3, Darkman, and Intruder>
Denise Bixler as Linda <Denise has also appeared in Crisis in the Kremlin>
Richard Domeier as Ed <Richard has also appeared in Unnamable 2, Die Hard 2, and Teen Wolf>
Most facts gotten at Internet Movie Data Base
Links:
Merchandise:
DVD:
VHS:
Soundtracks:
Evil Dead/Evil Dead 2/Army of Darkness:
Books:
Toys:
McFarlane:
Games:
You can get Evil Dead 2 posters at Rick's Movie Graphics
Fan Sites:
Please go to my Evil Dead page!
Please click on the "Welcome" sign below to view and use the full set I created for Evil Dead 2: