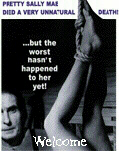 Deranged
It took me almost ten years to finally find this movie, and it was sooooo worth it! This is the closest account of what really happened concerning Ed Gein. The reason I had searched so long for this movie was that I had heard that this was the first movie Tom Savini ever did effects on. I later learned that it was directed by Alan Ormsby, which kinda made me a little let down, but I now regret that feeling. My Mother is a huge fan of Children Shouldn't Play With Dead Things, and has forced me to watch it on more thatn one occasion!! I have to admit that Children did grow on me over time, but I was a bit wary when I finally did get my hands on Deranged. This is such a classic, and Roberts Blossom gives the most excellent performance of Ezra Cobb, and there are some truly creepy scenes, and the effects are amazing!
Facts:
1974 Directed by Jeff Gillen and Alan Ormsby
Written by Alan Ormsby
Cast:
Roberts Blossom as Ezra Cobb *Roberts has also appeared in Escape From Alcatraz, Doc Hollywood, Home Alone, The Last Temptation of Christ, Vision Quest, Christine, The Wall, and Close Encounters of the Third Kind*
Cosette Lee as Ma Cobb *Cosette has also appeared in Change of Mind and The First Time*
Leslie Carlson as Tom Sims *Leslie has also appeared in No Child of Mine, Morning Glory, and Impolite*
Robert Warner as Harlan Kootz *Robert has also appeared in Black Christmas and When Michael Calls*
Marcia Diamond as Jenny Kootz *Marcia has also appeared in Sam & Me, Sing, The Gurdian, and Black Christmas*
Brian Smeagle as Brad Kootz
Arlene Gillen as Miss Johnson
Robert McHeady as Sheriff *Robert has also appeared in "Alfred Hitchcock Presents"*
Marion Waldman as Maureen *Marion has also appeared in Black Christmas and When Michael Calls*
Jack Mather as Drunk *Jack has also appeared in Canadian Bacon, Billy Madison, and Rookies*
Micki Moore as Mary *Micki has also appeared in David's Mother, Glory! Glory!, and The Right of the People*
Pat Orr as Sally *Pat has also appeared in The Stratton Story*
Most facts gotten at Internet Movie Data Base
Links:
Fan Site:
A fan site for Deranged:

Merchandise:
You can buy Deranged new for 33.99 at Amazon.com
Click on the "Welcome" sign below to view and use the full set I created for Deranged!