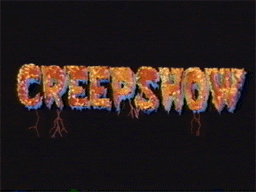 Creepshow
Wonderfully fun, creative, and colorful. All the masters decided to get together and seemingly create their dream movie! This is everything those old comics books were and more. This is another incredibly fun movie to watch, and has the best of casts (including my favorite actress, Adrienne Barbeau) imaginable. The list is going to be long, but I am including everyone! This was followed by Creepshow 2, which the only story I really enjoyed a lot was the hitchhiker story.
********************************************************
*DVD Review*
The DVD shows the movie in great condition, however there are no extras except for a trailer, which is sad because there is soooo much they could do as far as extras go. Oh well, maybe one day.
Overall DVD Rating: *** (out of 4)
Buy the DVD at a discounted price by clicking on:
** More merchandise links below **
********************************************************
Facts:
1982 Directed by George Romero
Written by Stephen King
Cast:


Carrie Nye as Sylvia <Carrie has also appeared in Too Scared to Scream, and The Screaming Skull>

Viveca Lindfors as Aunt Bedelia <Viveca has also appeared in Stargate, Exorcist 3, The Sure Thing, The Damned, and Dark City>
Ed Harris as Hank <Ed has also appeared in The Truman Show, Apollo 13, Nixon, The Stand, Needful Things, and Knightriders>

Elizabeth Regan as Cass <Elizabeth has also appeared in City Kids>

Jon Lormer as Nathan <Jon has also appeared in The Boogens, The Legend of Lizzie Borden, and several TV Shows>

John Amplas as Nathan's Corpse John has also appeared in Day of the Dead (as Fisher), Knightriders, Midnight, Bloodeaters, and Martin>

Nann Moog as Mrs. Danvers <Nann has also appeared in Don't Call Me Frankie and Gung Ho>

Warner Shook as Richard <Warner has also appeared in Knightriders>


Stephen King as Jordy <Stephen has also appeared in Stephen King's the Shining, Thinner, The Langoliers, The Stand, Sleepwalkers, Golden Years, Pet Semetary, Creepshow 2, Maximum Overdrive and Knightriders>

Bingo O'Malley as Jordy's Dad <Bingo has also appeared in Diabolique, Mob Justice, The Cemetary Club, Two Evil Eyes, and Knightriders>


Leslie Nielson as Richard <Leslie has also appeared in Mr. Magoo, Spy Hard, Naked Gun, Airplane!, and The Opposite Sex>

Ted Danson as Harry <Ted has also appeared in Cheers, Saving Private Ryan, and Body Heat>

Gaylen Ross as rebecca <Gaylen has also appeared in Dawn of the Dead, and Madman>


Adrienne Barbeau as Billy <Adrienne has also appeared in The Fog, Escape From New York, Swamp Thing, Burial of the Rats, Bimbo Movie Bash, Two Evil Eyes, The Convent, and Maude>

Hal Holbrook as Henry <Hal has also appeared in Waking the Dead, Hush, and The Fog>

Fritz Weaver as Dex <Fritz has also appeared in Tales From The Darkside (Inside the Closet), Alice In Wonderland, Jaws of Satan, Legend of Lizzie Borden, and Demon Seed.

Robert Harper as Charlie <Robert has also appeared in Deconstructing Harry, War of the Roses, and Mommie Dearest>

Don Keefer as Mike the Janitor <Don has also appeared in Liar, Liar, and The Car>

Christine Forret as Tabitha <Christine has also appeared in The Dark Half, Two Evil Eyes, Monkey Shines, Knightriders, Dawn of the Dead, Martin, and Blood Orange (She is also George Romero's Wife)>

Darryl Ferrucci as Fluffy


E.G. Marshall as Upson <E.G. has also appeared in Nixon, The Tommyknockers, Two Evil Eyes, Superman 2, Vampire, Caine Mutiny, and 12 Angry Men>

David Early as White <David has also appeared in Houseguest, The Dark Half, Innocent Blood, Silence of the Lambs, Monkey Shines, Knightriders, and Dawn of the Dead>

Tom Atkins as Billy's Dad <Tom has also appeared in Two Evil Eyes, Maniac Cop, Halloween 3, Escape From N.Y., Bruiser, and The Fog>

Joe King as Billy

Iva Saraceni as Billy's Mother <Iva has also appeared in Knightriders, and The House That Cried Murder>
Tom Savini as Garbage Man #1 <Tom has also appeared in Knightriders, From Dusk Til Dawn, Dawn of the Dead, Vampirates, Wishmaster, Innocent Blood, Heartstopper, Creepshow 2, The Ripper, Maniac, and Martin>



Marty Schiff as Garbage Man #2 <Marty has also appeared in Knightriders and Dawn of the Dead>
Most facts gotten at Internet Movie Data Base
Links:
Merchandise:
Buy the DVD of Creepshow at a discount price by clicking on:
Buy the VHS of Creepshow at a discount price by clicking on:
Buy the DVD of Creepshow 2 at a discount price by clicking on:
Buy the VHS of Creepshow 2 at a discount price by clicking on:
You can but posters at Rick's Movie Graphics
Fan Sites:
Please click on the "Welcome" sign below to view and use the full Creepshow set I created: