June 2002 CreepCon
*NOTE: This is a rather long review, scroll down to see the pics below if you want to skip the review
This is a first, I am writing about this convention prior to the actual convention, (today is May 20, 2002) but there is good reason, and this won't be posted until after the end of the convention. Well, I must say that from the beginning this is adding up to be the worst convention experience by far. My mother gave me the $55.00 to pay for our weekend passes, and I purchased two weekend passes via PayPal on April 5th for $55.00 ($25.00 each weekend pass plus the $5.00 processing fee for using PayPal that CreepCon charged). Well, you can imagine my delight when only five days later they arrived on April 10th! One problem, there was no "they". Although the handwritten receipt within the envelope also stated "Two Weekend Passes" there was only two tiny tickets in the envelope, one stamped June 8, 2002, the other stamped June 9, 2002. Question marks then exclamation points immediately went off in my head. So I emailed Phil, the 17 year old guy (I was told) running the convention (I found out his age later) and this was his response: "Oh im sorry, you only recieved 2 tickets total? Thats odd... well ill send another pair out to you. Sorry about that." Okay, so I waited...and waited. I began to get worried, and on April 30th, I emailed Phil again saying that I didn't get them yet, and this was his response: "Yes they have went out already, you should get them any day now." So on May 8th, I started to get angry, I emailed him and told him that I needed the tickets now, and that we were to be leaving for Maryland within a couple of weeks, I had already paid for the two weekend passes and only received one, and this was his reply!: "First thing is you have to have patience. Your tickets were mailed and incase you havent noticed but mail has been slow since 9/11. You will recieve them soon. Thanks!" Needless to say that as I type this (it is now May 20th) I still have not received the owed weekend pass. And I majorly resent him using 9/11 as an excuse, seeing as how I have dealt with the post office numerous times and have yet to have a problem, and if that were the reason, why did the original weekend pass only take 5 days to get to me? So yesterday, I did the unthinkable, I purchased a Saturday only ticket. Now I know you are saying to yourself "Why in the hell did this stupid girl buy ANOTHER ticket from this guy?!" I must admit that I am frantic. The show is only a few weeks away, and my mother doesn't really know about any of this crap that is going on so far, and I want this to be a good experience, so I went ahead and shelled out another $20.00 unbeknown to her and in the PayPal "instructions" box, I wrote to Phil, "Please, this is for 1 (one) Saturday (June 8th) general admission ticket. I am paying $20.00 ($15.00 plus the $5.00 processing fee. I have never received my second pair of weekend passes, which you said you mailed out April 10th. So this is now a total of $75.00 I have paid for 1(one) weekend pass and 1(one) Saturday General admission pass. My friend Stephanie said she also has had problems concerning buying tickets. I am leaving in less than two weeks (which I had expressed to you before)for Maryland, and I need the tickets now. Unfortunately this means that either my mother or I will have to not attend one of the days of the convention (for which we paid for.) I really wish all this was not happening." Now, combine this entire ticket fiasco with the fact that the guest list has almost completely changed since the first announcement of this convention. In the beginning, included on the guest list were Corey Haim, Caroline Munro, David Carradine, Muse Watson, David Prowse, Lou Ferrigno, Dick Durock, Tom Savini, Traci Lords, and MANY other people I was excited about seeing. I even remember at one point, Phil emailed me a long time ago saying he appreciated me listing his convention on my website, but there had been some changes, and would I please make them. After awhile, it got REALLY tiring constantly making changes to my convention page for his convention. Most of the time (I think Traci Lords was the only cancellation made note of on his updates page) guests just disappeared without any mention, for instance, I only recently realized that Tom Savini is no longer on the Guest List. The Return of the Living Dead Reunion is his only saving grace. Especially getting to meet Miguel, Jewel, and hopefully Thom Matthews if he is available. If that goes through without a hitch, I will be content, if it does not, I will NEVER attend another of his conventions, and I know of many, many, many others who will not as well. He also had a Forum up, which he has deleted most of the posts from, and I remember awhile ago, there was one angry poster about all the changes going on in the guest list, but that disappeared soon after. I honestly hope, however, that the rest of what I write here will be happy memories. We will soon see...
*******************************************************************
Okay, it is now May 28th and I am still waiting for the Saturday pass I ordered (will wait until this Friday, then I will call Phil). The reason, however, that I am writing today is because there have been yet MORE changes in the guest lineup (this is why most conventions list people ONLY when they are definitely confirmed, I understand cancellations, but this is so frequent with this CreepCon it is unbelievable.) First, I noticed that Bill Moseley is gone, but he is replaced with Ted Raimi (who I love, but am not excited about meeting, because I am very leery at this point as to who will definitely be there, I have given up anticipation.) I really wanted to meet Bill too. It said in the "NEWS" section that Bill is unable to attend because he is wrapping up House of 1,000 Corpses. I am probably being naive here, but wasn't that movie finished long ago? Just looking for a distributor now? Mybe Bill has to shoot some more scenes or something, I don't know. Also gone, is Miguel Nunez and Beverly Randolph from Return of the Living Dead. I wanted SO BADLY to meet Miguel! It is also confirmed that Thom will not be there. Here is Phil's write-up in his "NEWS" section: "May. 27, 2002
We have gotten several cancellations due to professional and personal reasons. The following guests have cancelled: Bill Moseley (In order to finish house of 1000 corpses), Remy Marks (To attend a model shoot in LA), Beverly Randolph (Personal reasons), Miguel Nunez (Personal reasons). Not to worry, we are currently looking to fill those slots. We have announced actor Ted Raimi. He will be a headliner for this years show and will do a Q&A. Sorry ROTLD fans but Thom Mathews has notified me that he will not be able to attend this year but wishes the best. The reunion will still be awesome! See you in June."
My feelings have gone from bad to worse.
*******************************************************************
Well, it is May 30th and I did recieve my Saturday pass today, but alas no Weekend Pass owed to me or a refund. NOT very good business handling. Next up will be my review on the convention after I have attended. I honestly hope that this has a happy ending or at least some salvaging!
*******************************************************************
Well, the show is over. While I apologize for the length of this write-up, I really felt, it needed to all be out there. Now as far as the show went, the first thing I will say was for who I met and how they treated me, it was worth the hell I went through. However, I must include here before I write on that others did not show up as well, while meeting John Philbin, I learned from him that Jewel Shepard would not be there. And, although I know Reggie showed up, I have no idea where he was or when he came. Here is the sequence of events: my mother and I arrived just before 11AM and went to the ticket line. Amusingly, the man next to us in the double line was saying to the ticket taker "You people cashed my check, but I never recieved the tickets." although tempted to stay and find out what happened we went ahead into the convention after recieving our wrist bands. The convention hall was huge and a zillion tables were set up. Directly in front of us were all the vendors, or so we figured. I could see the massive lines for the Buffy stars against the wall to our left. We went past a bunch of rows of vendors, and came to what appeared to be a line of celebrity tables. The first person I noticed was Brad Dourif. I almost died! He looked so adorable (I LOVE his eyes!)! So I went to his table, and asked for one of the pictures, and at first he was kinda cool and professional, not rude, just a teensy intimidating, but then when I asked if I could have my picture taken with him, he jumped right up and said very warmly "Sure! Of course!", and all the intimidation went away. From this point on, I can't tell you which ones I saw next in which order, but I know I went to Linnea's table, and chatted with her a bit and purchased one of her videos I had been wanting to get for awhile. I also asked her if she knew where Stephanie was because I was supposed to meet her there and Linnea said Steph hadn't shown up yet. I then noticed James Karen, who was behind my mom, and I told her, and when she turned around and looked at him, I swear she had tears in her eyes, she was so in awe. He was just amazing. Around the same time I noticed Don Calfa, and started getting auto's and my pics taken with them, and the sweetest thing was that after all that James began walking around the convention (I think with his wife), and he just looked so in awe and went by all the vendor's tables. He had said to me prior that he didn't plan on setting up a table. I don't think he realized how many people were there to see him, and later he became so overwhelmed and swamped that John Philbin had to get a table set up for James. I think he had just figured he would putter around the conevntion and when people approached him he would meet with them sign and pose, but he ended up being swamped! I then talked with John Philbin for a bit, there will be a video snapshot of him below soon, because I didn't have my picture taken with him, because I got a bit confused, and couldn't remember if I did or not. But he was soooo cool! I kept telling him that he was not a geek like his character (Chuck) in Return, but he ended up signing the pic "I AM a geek!" He said a lot for my video camera which was really fun! I then met Allan Trautman who was the Tarman in Return and he was extremely warm and friendly. He had gorgeous 8X10's too. I noticed my mom was at the Conrad Brooks table and went there. What a character he was!! Just like an old time movie guy, a fast talker, extremely friendly and fun to be around! My mom wandered off again, and I then found her at the Ben Chapman table. Behind him was the card all of us had signed at the Horrorfind for him when he was injured, which was real nice. He had a ton of stuff that he gave away with each autograph, including a copy of his original movie contract. Very cool! After that I met Edwin Neal, and he was a real gentleman. He also had fabulous 8X10's, and even told us some of the behind the scenes stuff on TCM. After awhile we realized that we could not find Warwick Davis, Ted Raimi, Kane Hodder, and others. With some major turn of luck, we spotted some of them BEHIND the Buffy line against the wall. If we hadn't walked over to the right spot and looked over at a certain angle, we would have never seen them! I immediately got in the Ted line. I was SOOOO excited! He looked so cute and nice! When I met him, I observed that there were no pics from Evil Dead 2 on the table and I said that out loud along with "You should have pics from Intruder too!" and he looked shock for a second and said, "Intruder, WOW, you ARE a fan!!" It was soo hysterical! He was so funny and nice it really made my day! He talked me into a pic of him in this detective getup because he thought he looked more dashing in it and on it he wrote "Bon Jour and other sexy French Stuff!" He was great. While I was in line I noticed at Brian Thompson's table to the left, he had a big sign behind him that read "BRIAN THOMPSON WILL NOT BE HONORING GOLD VIP TICKETS" I don't think a lot of Buffy fans were happy about that. I didn't meet him, but he seemed really nice when I obserevd him with the fans. Must have been a misunderstandiing between him and Phil. Also while in line to meet Ted, I got into conversation with a couple of guys who weren't too happy with the way the convention had been put together. After that we met Warwick Davis, who was a true gentleman, and had an excellent selection of pics to choose from. A bit later I finally met up with Stephanie and her family, and a short time later we left. I also want to make my apologies here, for I was invited by Stephanie to dinner after the convention with her and her family, Linnea, Amy Lynn Best, and several others, but I couldn't make it, I wish I could have, and I feel so terrible about it! Hopefully Steph will invite me again (HINT HINT! LOL!!) or I could invite her to dinner perhaps at the Horrorfind in August, which should be a smash!
In closing, I don't want to completely bash Phil because he is young and this is his first convention. Far be it for me to criticize, I have never put on a convention, and I am sure it is overwhelming (although here is a warning, Steph and I plan to put one on someday!!). My biggest complaints have to do with his treatment of me and others prior to the show. I don't like the way the guests were mixed with the vendors maing some of them very hard to find (I never did find Reggie and also never noticed if Brian Peck was there), I think all the celebrities should have been against the wall encircling the vendors. I think he should have hamdled announcing guest cancellations better. I have never asked for full explanations of a guest cancelling, I just think it should be made note of. A lot of people just disappeared from the list as close as within days of the convention without a word in the update section, only a few were mentioned with reasons why. I think (this is not a real bad criticism, just a suggestion) he should have a mailing list to notufy people of things like guest changes and stuff. I will say some positive things, I think his vision was great and the choice of celebrities he asked was great. I think he meant well, and I came away feeling it was worth it. Also, I have to say, it was laid out (to me) better than the Fangoria Weekend of Horrors I attended which definetely says something positive about Phil. I never met Phil (to my knowledge) and I honestly hope he does this again, and is very successful.
Video Snapshots Coming Soon!
Brad Dourif: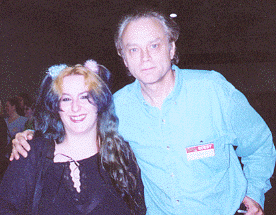 LOVE those Eyes!!!
James Karen & Don Calfa: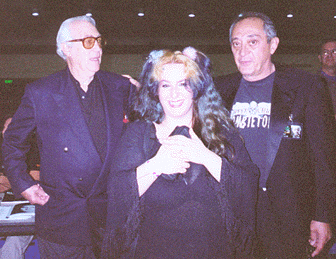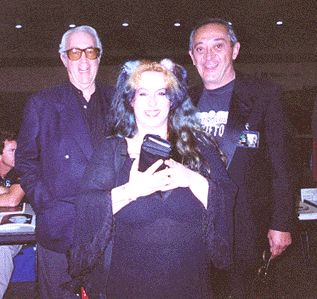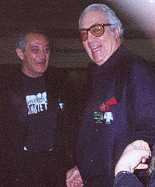 One of the biggest thrills of my life!!
Conrad Brooks: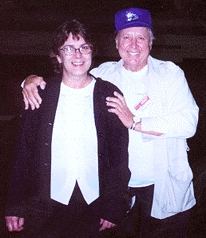 Mom and Conrad!
Ben Chapman:
Ben Chapman, a beautiful man.
Ben's Link: http://www.the-reelgillman.com/
Edwin Neal: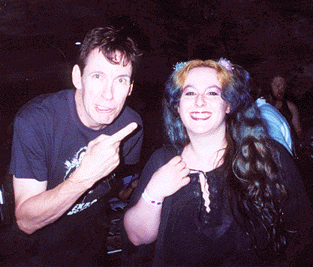 What a gentleman!
Edwin's Link: http://www.dreamcatchersfilmsinc.com
Ted Raimi: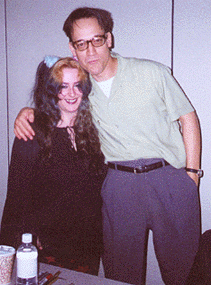 I think I'm in love! Swoon!!!
Ted's Link: http://www.tedraimifan.com/
Warwick Davis: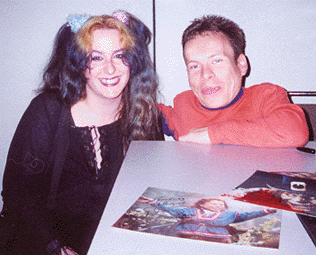 An incredible man.
Warwick's Link: http://www.warwickdavis.co.uk/
The Man Who Met Andy Griffith: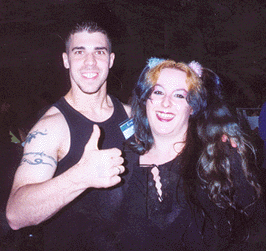 Actually, he did meet Andy Griffith, but he was there to sell his great horror magazine which you can find a link to below.
The Man's Link: http://www.areyougoingmovie.com/
Stephanie: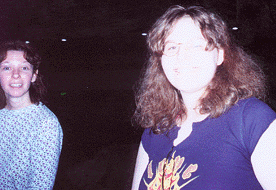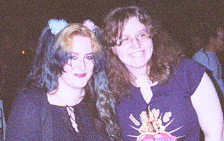 On the left is Steph and her mom and on the right is me and Steph.